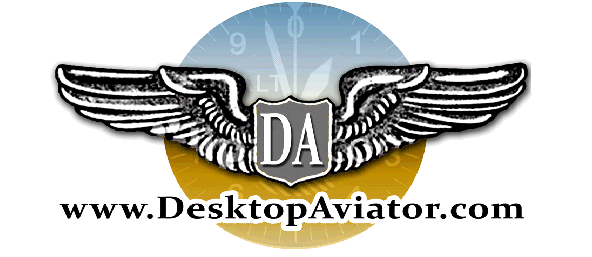 X-Plane and The Desktop Aviator's 2160 on the MAC OS
My Search for a MAC and X-Plane compatible USB HID (Human Interface Device)
Began when I first set out to build my 737 cockpit. I required a device flexible enough to
Provide input from different types of switches including DPDT, Momentary, Center Off and rotaries. I wanted to recreate the true operation of the switch instead of settling for a push button, joystick like alternative. In my hunt, I found and experimented with boards from Go-Flight, Leo Bodnar and Desktop Aviator. These are all great products that have found their way into my pit, but I wanted to focus on the Desktop Aviator 2160 USB Board.
The first product I tried from Desktop Aviator was their 2120. The board provided 1/4 second pulse in X-Plane on both the connect and disconnect of a switch. What attracted me to this product was the ability to set 2 inputs off of one switch and perform a "Toggle" operation in X-Plane. This would allow me to use 1 USB device for 20 actions that require 2 inputs (on and off). What I had envisioned was a simple, but in reality it was a different story. The first road block was X-Plane. Only about 50% of my inputs have "Toggle" options. I would have to provide 2 inputs for a function and that would mean 2 inputs would be fired at the same time for a 1/4 second making configuration impossible. The other issue was in the 2120 board. There are usually 2 "Ghost" inputs always present when the device is connected. During other controller inputs, some of the "Ghost" inputs would toggle. This, on top of the double input issue made the board impractical. At this time I started working with the support staff at Desktop Aviator to see if there was a resolution to the "Ghost" inputs and what could be done about the double inputs. The support stall at Desktop Aviator have been fantastic. While they assisted me with my work in resolving my issues, they also recommended their 2160 board. After listening to my situation, they felt that the 2160 board, even though it would provide fewer actions (2 inputs per action instead of 1 "toggle") it would provide me with a single 1/4 pulse in one direction, and that's what I have been looking for.
I was able to return the 2120 and get it swapped for the 2160. The first thing I noticed was the "Ghost" inputs where still there. The other thing I noticed was the operation of a clean solid input when commanded. Once I wired up my battery, avionics and generator switches to the 2160, I opened up X-Plane and went to the "Buttons Advanced" tab.
Here you see the 2 "Ghost" inputs in X-Plane.
I started to assign inputs after throwing the required switch. Sometimes one of the "Ghost" inputs would toggle and that would cut in line of the input I was trying to select. I learned quickly that after creating a link with a switch and an input, go back and with the mouse, click on all of the "Ghost" inputs and make sure their action is set to "None" at the top of the list. This clears the inputs so that when the false input occur, they don't have an action assigned to them.
It does get a bit time consuming to go back and re verify the "Ghost" inputs after each deliberate input, but it works and it does what I want, when I want it.
I realized after getting the one 2160 up and running, I would require another. This would provide me with 40 inputs for about 20 actions. That combined with a Go-Flight P8 board would provide me with enough inputs to drive a complete 737 overhead.
I would like to take some time to compare the 2160 with other devices out there. The BU0836 Board from Leo Bodnar provided analog inputs for sliders and throttles, but it also has 32 inputs provided by a diode matrix. Once I was able to figure out the matrix, that complicates the wiring a bit. I noticed that unlike the 2160's 1/4 second pulse, the BU0836 inputs are always on. Though this is not an issue for X-Plane. If you have even seen the "Buttons Advance" tab, imagine 40 checked inputs boxes and try to figure out what is a what. I plan to use the BU0836 to control inputs for my radios and throttle, and so far it looks promising. It is a great board, and with the matrix it provides 12 more inputs than the 2160, but with the added wiring and extra confusion (might just be me), I don't think it's a perfect match for straight forward simple switch inputs in the X-Plane.
If you are a Mac User running X-Plane, you might have noticed that there is not a lot of options for pre-assembled flight gear. Go-Flight has recently been added to the list of Mac compatible hardware. I already use their MCP Pro Autopilot and love it. I found a place on the web that sold just the interface boards for some Go-Flight modules. I picked up a couple of the P8 boards and played around with them. The P8 provided 8 inputs with 8 "lit when on" LED outputs. For the overhead, I used DPDT switches so I cound provide a digital input on one side of the switch and provide power to an LED on the other side of the switch (in most cases, a light for when the switch is off). With the P8, I could have a valve light come on when the igniter switch is thrown. I learned quickly that I could swap out the LED and have the output drive a relay for another function. Though very limited to its inputs (8) and the list actions in the plug in are a lot fewer than the defaults in X-Plane, this little board provided me with options that on other board could handle. When I turn on the APU generators, the P8 sends 5V to run and AC/DC meter panel and display the appropriate current. No other board could drive that.
I used to feel that without a solid and reliable way to input commanded into X-Plane, my cockpit project would never get off the ground. Today I have a fully functional and wired overhead for a 737. The Desktop Aviator 2160 provides a simple, clean inputs for 20 switches. The BU0836 has great analog support, with a bit more complicated switch setup. And the Go-Flight P8 is only good for a few things, but it does them well.
I hope that the above information can help save some time and effort for those few brace souls who are hell bent on flying their Mac's around their basements.
Cheers
John Paul Mac Isaac
---
"One-Shot" Pulse Generator Model 2160
---
Also available Pre-Assembled in a Handsome Gray Cabinet Model 2170
Click HERE for more information and pricing for these Two Great DTA Products